Direct Deposit
Enrolling in Direct Deposit is as easy as 1-2-3!
Obtain your bank information
- Bank routing and account number


Enroll online using Self-Service
- Must be on campus or using ISU VPN


Validate with the University Payroll Office
- Call (309) 438-7677
To comply with NACHA rules, please advise the University Payroll Office if you receive your pay via direct deposit at a U.S. bank and intend to transfer the entire payment amount to a bank in another country.
In order to enroll in Direct Deposit, you may use Employee Self-Service through MyIllinoisState, or fill out the Direct Deposit Authorization Form and return it to the University Payroll Office by mail or in person, by fax 309-438-3357, or by secure form Dropbox  Sensitive Form Submission .
Employees who desire to update their direct deposit via Employee Self Service must be on an Illinois State Network, or using a VPN which can be obtained via the IT Helpdesk at (309)438-4357.
---
Terminology:
Routing Number
The routing number is the nine-digit number in the bottom left corner of your check. A routing number NEVER begins with "5." DO NOT copy the numbers from a deposit slip. Usually, these are not valid. 
*If you are not sure what the routing number is, contact your bank.
Account Number
The account number is a series of numbers found at the bottom of your check following the routing number. Do not enter your debit card number – this is not your account number.
*If you are not sure what the account number is, contact your bank.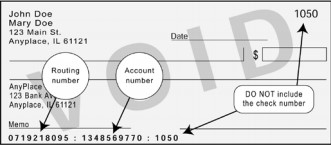 ---
Note:
Direct Deposit enrollment for payroll purposes is independent of Student Accounts and Business Office. To receive Student Accounts and Business Office payments via direct deposit, please visit the sites below.